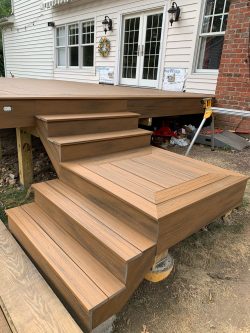 Firchau Construction CWC Inc. specializes in deck construction and patio deck installation. We're the premier deck design and construction company in the greater Glen Ellyn, Clarendon Hills, Elmhurst, Hinsdale, and Wheaton, IL area. That's because we pride ourselves on our customer service, our design skills and our superior abilities as deck builders. Our family-owned and operated business has been building and remodeling decks for close to thirty years.
You can rest assured that in everything we do, we only use the highest quality materials. We can build a deck to your specifications, or help you design the deck of your dreams. Firchau Construction CWC Inc is the best at custom deck design and installation. We're proud to use Trex decking in our projects and are sure you'll fall in love with it over traditional wood decking for many reasons.
Why choose Trex decking?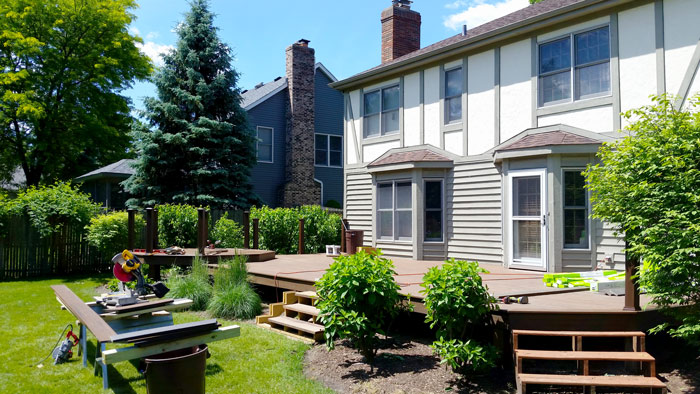 It has a long lifespan: Most wood decking lasts between 10 to 15 years. Trex will last 30 years or longer.
It's easy to maintain: You'll never have to stain or paint a Trex deck and you'll only need to wash it once a year.
It's weather, termite, rot, and splinter resistant: That means not only can you relax about broken boards, you and your kids can walk around barefoot worry free.
It saves trees: Made from 95% recycled materials like sandwich bags and plastic grocery bags, in Trex's eco-friendly factory, you can feel good about helping the planet.
It saves you money: You might wonder about this one, but it's true. Sure Trex is more expensive than wood decking as a material, but because of its long life and ease of maintenance, including resistance to pests and the elements, Trex costs you less.
When you're looking for patio deck installation in Glen Ellyn, IL, look no further than Firchau Construction CWC Inc. We'll take you through the entire process and help you improve the look and value of your home with Trex decking.
Call us today for a free estimate on deck construction, deck restoration and repair, remodeling, and more.